It's Finally Here...
The Greatly Anticipated CCO
ICD-10-CM Mini Course!
Who's this course for:
Medical coders wanting to learn ICD-10-CM (not PCS)
Those with an existing understanding of ICD-9 and basic coding
Those preparing for AAPC's ICD-10-CM Proficiency Assessment
The ICD-10-CM Mini Course Includes
6 Jam-Packed Modules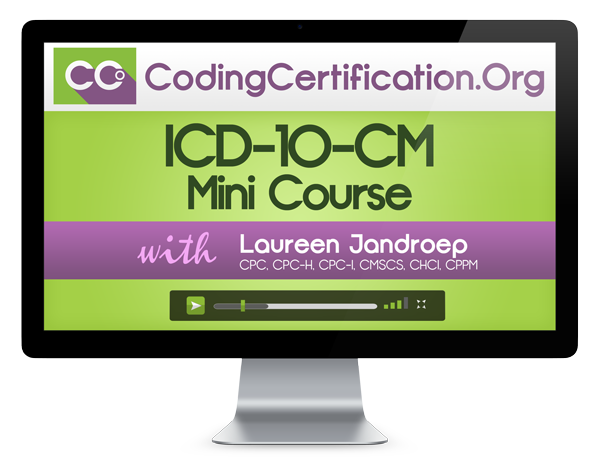 Module 1: An Overview of ICD-10-CM
Module 2: ICD-10-CM Outpatient Coding & Reporting Guidelines
Module 3: Using ICD-10-CM
Module 4: Chapter-Specific Guidelines (1-10)
Module 5: Chapter-Specific Guidelines (11-14)
Module 6: Chapter-Specific Guidelines (15-21)
Each Module Contains:
Video lecture by Laureen Jandroep, CPC, CPC-I, CMSCS, CHCI
Lecture handouts
Reading Assignment out of "Step-by-Step Medical Coding" by Carol Buck (purchase on your own or through CCO)
Workbook Exercises
Fun Practice Activities
Online Timed Exam to Test What You've Learned
Access to CCO Instructor Coach
Module 1 Objectives:
Explain the development of the ICD-10-CM.
Describe how the ICD-10-CM replaces the ICD-9-CM, Volumes 1 and 2.
Identify the improvements in the ICD-10-CM.
List the official instructional notations in ICD-10-CM.
Analyze the ICD-10-CM Official Guidelines for Coding And Reporting.
Describe the format of ICD-10-CM.
Module 2 Objectives:
Identify a first-listed diagnosis
Define assignment of codes for unconfirmed diagnosis
Describe code assignment for outpatient surgery
Outline assignment of additional diagnoses
Describe Z code reporting
Define observation stay
Delineate the differences between first-listed and coexisting conditions.
Explain uncertain diagnosis
Understand assignment of codes for chronic diseases
Recognize diagnostic services
Recognize therapeutic services
Illustrate reporting of preoperative evaluations
Explain prenatal visits
Apply the Official Guidelines for Coding and Reporting
Module 3 Objectives:
Demonstrate ability to utilize the Alphabetic Index and Tabular List
Understand the steps to accurate coding
Comprehend the organization of the Guidelines
Use both the Alphabetic Index and Tabular List
Outline the need for level of specificity in diagnosis coding
Identify conditions integral to a disease process
Assign multiple codes to a single condition
Report acute and chronic conditions
Demonstrate application of combination codes
Differentiate between residual and late effects
Abstract information that determines if a condition is impending or threatened
Outline the rules when reporting the same diagnosis code more than once
Assign codes based on laterality
Module 4 Objectives:
Review certain infectious and parasitic disease codes
Analyze neoplasm codes
Assess the blood and blood-forming organs and certain disorders involving the immune mechanism codes
Examine the endocrine, nutritional, and metabolic diseases codes
Understand the mental and behavioral disorders codes
Examine the diseases of the nervous system codes
Analyze the diseases of the eye and adnexa codes
Comprehend the organization and reporting of the ear and mastoid process codes
Recognize the diseases of the circulatory system codes
Evaluate the diseases of the respiratory system codes
Demonstrate the ability to report diagnoses with I-10 codes for Chapters 1-10
Module 5 Objectives:
Examine the digestive system coding
Review coding the skin and subcutaneous tissue diseases
Understand diseases of the musculoskeletal system and connective tissue coding
Module 6 Objectives:
Review the pregnancy, childbirth, and puerperium coding
Report services of certain conditions originating in the perinatal period
Examine the congenital malformations, deformities and chromosomal abnormalities
Define the rules of symptoms, signs, and abnormal clinical and laboratory findings that are not elsewhere classified
Identify the elements of coding injury, poisonings and certain other consequences of external causes
Order Now And Get Instant Access
Yes!

Please Give Me INSTANT ACCESS To The Entire

"ICD-10-CM Mini Course"

I understand I'll be receiving 12 months online access to the entire "ICD-10-CM Mini Course" for a small one-time investment!

I also realize I have 30 days or the completion of one chapter to request a refund - plenty of time to make sure this course is for me.*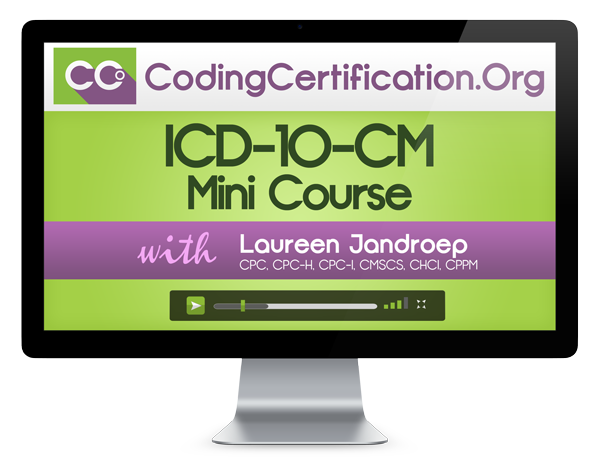 Enroll Today for Only $297

$397

*less $50 administrative fee